Every September Pete and I take a trip to somewhere in Italy to celebrate his birthday.
After a few years visiting our spiritual home of Florence we thought Rome would be a great change. We were not disappointed.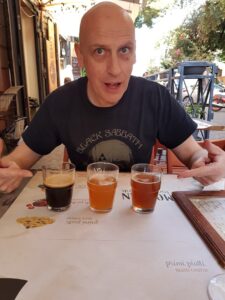 With so much to see and do in 4 days we decided to use a guide book for the first time and follow daily routes suggested.
Obviously this didn't work out as we stopped to marvel at so much we inevitably got lost several times, but hey, this is how you find great local bars serving really great local beers and food!
Pete clearly is very happy with his craft beer 'flight' and realising very quickly that the Italians really know how to make great craft beers.
With trips planned for the Vatican and all the usual sites in Rome we always try to make time for relaxing somewhere different every day in a different local bar. Its these places where you see real Italian life and drink and eat authentic Italian food and beers.
Rome is a fantastic place and we will be visiting again im sure. If you feel the urge to go, wear the comfiest shoes you have, eat all the gelato, avoid the tourist spots, walk around at night as it is beautifully lit and romantic. Plan your day but be flexible and get a little bit lost, that's where all the great bars are!