Pete and I try to get away for a few days somewhere just before the Christmas madness starts. This year we picked Bruges (mainly because the flight was dirt cheap). We hitched a lift with my best mate Helen to Heathrow and boarded our packed flight to Brussels. All very formal and sensible on this flight, no messing around, up and down in less than an hour.
The onward train journey was as efficient as the plane. They've got this travel thing sorted. Took a taxi to our hotel, The Dugges Palace in the very heart of Bruge. Its 5 star rating didn't faze us, well travelled battered cases and a Bilston accent, how could they not love us! Our room was fantastic, great views of all the roof tops and the Belfrey of Bruges.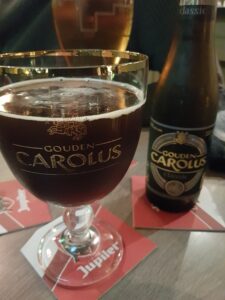 We found a place that has a wall of beer. What could go wrong? Flights of beer with nibbles, nothing under 6%, easy.
The weather was particularly suitable for otters so we took refuge in plenty of bars and restaurants in between showers. This didn't put us off at all, we visited churches, and old hospital that is converted into little businesses such as restaurants and craft outlets.
Most of our break was enjoying the Christmas atmosphere that they create and developin our love for Belgian beer. Its impossible to imagine you could try everything produced here, there is so much. A special glass for every bottle brought to your table adds to the excitement and the experience. We have much to learn, drink less but drink quality is how I see it here.