Darts night is my most favourite night of the year! This year we are raising money for Prostate Cancer. Badges are sold and everyone cant help getting involved. The turn out is fantastic as usual and everyone knows it will be a good night.
 This is purely an amateur competition and it is quite evident that some people (Helena) don't know the darts have to go in the board and not in the wall. Pairs are picked from a hat and get eliminated through rounds.
Each player walks to the oche accompanied with their own music. The music is chosen by myself and Mick who sorts out all that sort of technical stuff that messes with my mind. The music choices can often be quite saft but everyone loves it.
Dressing up and dying your hair is obviously the order of the day for "Lee The Weasel" (this is his chosen darting name) Lee is the darting baddy who positively encourages booing!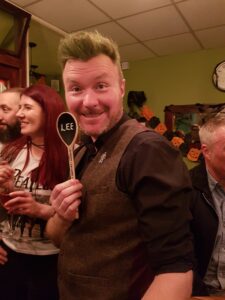 Given that this event is really about raising money for charity we thought having a raffle was a good idea and a quick break to grab a beer.
The prizes ranged from a crown for the winner, beer, wine, gift vouchers, a garden gnome and a wooden spoon for the loser.
 Most people had bought tickets but really didn't care if they won anything or not, its all about being together, having fun, raising some money and creating memories that will last.
That's the thing about my job I love the most, the friends I make from customers.
Some would say this isn't a great way to run a business and not to get attached to people but anyone who knows me will realise this isn't just my job its my life and my second home.